about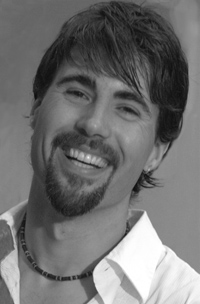 Jason works full-time as an artist, designer and craftsman in New Zealand. His diverse range of interests means he generally keeps a number of varied projects active at any given time, most recently with a particular focus on wall-mounted and free-standing sculpture.
BIOGRAPHY
Jason was born to artist parents in 1970, and raised in upstate New York. He moved to Brooklyn in New York City to study at the Pratt Institute School of Architecture in 1988, upon receiving a merit-based scholarship to attend. After completing an additional semester of studies abroad at Pratt's studios in Rome, Italy, he graduated in 1994, earning a 5-year Bachelor of Architecture degree and a minor in Industrial Design.
His work experience has included building experimental furniture and lighting pieces in the studio of renowned architect/designer Gaetano Pesce in SOHO (NYC), and furniture making and design with his father Raymond at the Tillman Studios in New York. After resettling in Boulder, Colorado, Jason initially worked freelance designing furniture, lighting and landscaping, and illustrating for marketing presentations, clip-art and publications. He later served as a Designer, Project Manager and then Account Director for Fusion Specialties Inc., a manufacturer of retail store display fixtures and promotional items. His client list included venerated global brands such as Disney, Gap Inc., Limited/Express Brands., Macy's, Nike, and many more.
Jason's personal projects over the years have included the completion of several extensive home renovations, and participation in strawbale home construction and sustainable building programs while living in Australia. Jason has also traveled widely in recent years, through Southeast Asia, Indonesia, Nepal, and into Central and South America.
Jason currently resides with his wife in the Marlborough wine-grape growing region of New Zealand, and works from his seaside studio and workshop.